I met a little dog this weekend who suffered from great anxiety. Two words are important here, I think – little and great. Jazz the Yorkie is eight pounds of little.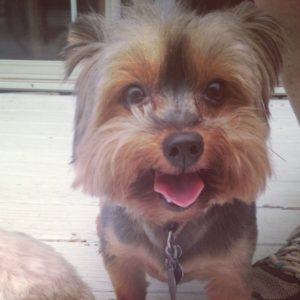 Her anxiety was great, or extreme. Her mom tells me that Jazz would "freak and hide" at odd noises. She also "took two years to get her to run across the back yard". When I arrived, Jazz was more cautious than just about any other dog I've ever met, but her response to me is reported to be far and away better than it's been to strangers in the past. I came bearing Jones chews, which always helps.
But what do you do with dog anxiety? How do you help a dog to be better, not worse? My friend did a couple of things right off the bat which are amazingly right, but take a ton of time and patience.
She kept Jazz on a leash for the whole first year she had her – being leashed felt safe for Jazz and she was calmer on leash, so mom did what felt safe while she adjusted to her new life
My friend adopted a second dog, Lyric, about the same size, to help teach Jazz how to be a dog – Lyric's responses to everyday stimuli helped Jazz understand her surroundings a lot better
She never ever surprised her dog or scared her to get a cute reaction, but instead did trust exercises with her
Introductions to strangers were gradual and gentle
Lots of gradual exploration of her environment, keeping walks short, letting Jazz just sit, watching Lyric explore
This weekend while I was there, Lyric and Jazz both left the back porch with their bones and ducked around the corner of the house, an action I see nearly every time I bring treats to dogs. Dogs are compelled to hide what I give them, in case I want to take them back or something. Evidently this was unheard of, the dogs leaving the porch by themselves, but especially Jazz. Her mama has worked hard with her and it shows. Taking candy from a stranger and leaving the safety of mama to run off with Lyric.
So what do the experts say about dog anxiety? Because I'm seeing, with my friend's behavior, that it takes time and patience, getting to know your dog, and avoiding triggers. Plus knowing when to introduce a solid friend who will help. But let's see what the dog experts say.
Gradual increments of separation from the dog – yes, this was done and worked
Working with the dog during times of weaker stress – choosing the time and place, but not during high anxiety, and giving good rewards – and gradually
Routine – routines are just as important to dogs as they are to children for safety and stability, and my friend is very routine driven, so I imagine Jazz had that working in her favor
Y'all, get to know your dog. Know that high anxiety takes time to work past. A lot of time. Be patient and loving with your dog. Introduce a second dog to the family if you think the time is right, a stable dog who will be a good companion. Some dog rescues allow you to test drive a dog for a few days, see if it will be a good fit for your family. I love that idea. But know that these things take time. There's no magic pill or treatment that works overnight.
I'd also recommend you find a good trainer, one who works consistently with positive reinforcement, who specializes in anxious dogs. Ask around and get recommendations. But whatever you do, don't give up on your dog. You're the safe person. Keep being the safe person. I know you can do it.
A big thanks to Jazz's and Lyric's mom! She's doing an amazing job. 🙂
Until I write again …
Flea